Glitretind Restaurant Named Among Top 100 Best Wine Restaurants in America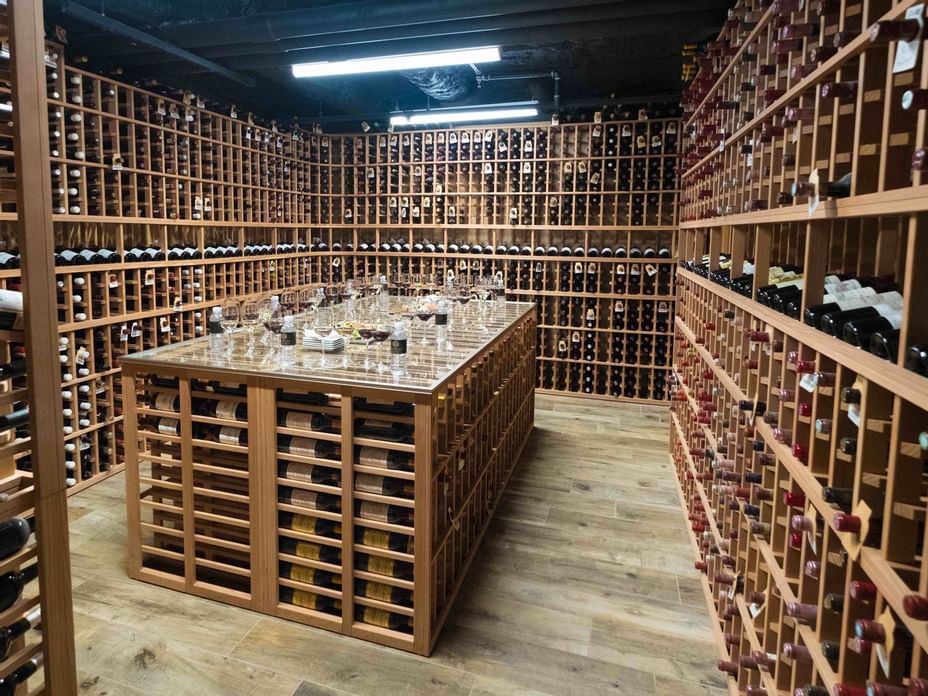 Wine Enthusiast named Glitretind Restaurant, the flagship restaurant at Stein Eriksen Lodge, among America's 100 Best Wine Restaurants for 2019. It is featured in the publication's August 2019 restaurant issue, which hit newsstands nationwide on July 2nd. As Utah's only Forbes 5-Star hotel situated beautifully in the scenic heart of Deer Valley, this latest esteemed recognition sets our fine Glitretind Restaurant dining restaurant even further ahead of the rest. In addition to coverage in Wine Enthusiast's August issue, Glitretind Restaurant will be listed in their coveted database on winemag.com.
"On behalf of our food and beverage team, it is an honor to be included as one of America's Best Wine Restaurants by Wine Enthusiast," says Zane Holmquist, VP of Food & Beverage Operations and Corporate Chef of Stein Collection. "Our wine selection is such an integral part of the Glitretind dining experience, and we are grateful to be recognized for our diligent efforts of pairing the world's best food with the world's best wines."
Each year, a global team of Wine Enthusiast editors and tasters carefully curates their first-class list of dining establishments in the United States to represent the most dynamic experiences of wine-focused dining across the country. Glitretind Restaurant was selected for leading the way with its fresh approach to wine and food, innovative wine selections, excellence in creative food concepts, and exceptional service. "It's actually the food, the service, and the wine list itself that went into this award, but it leans towards the wine list" explained Jason Berrett, F&B Director, on KPCW radio recently while discussing this great honor.
Glitretind Restaurant​
The award-winning Glitretind Restaurant presents guests with breathtaking views of Deer Valley Resort in all seasons. Featuring sincerely attentive staff and an impressive menu that offers options for vegetarian, vegan, kosher, gluten-free, and other special diets, this renowned restaurant offers a complete dining experience. Begin your meal with a delectable first course, such as the Shellfish Pepper Soup or Mushrooms & Quinoa with pattypan squash, pumpkin seed crumble, and goat cheese bechamel. Taste-tempting main courses include Sea Bass & Clams, Waygu Strip Sirloin, and perfectly smoked Muscovy Duck. The team members pride themselves on their longstanding culture of loyalty and service, and remain focused on even the smallest details in order to ensure a superior dining experience for every guest, every time. Explore the culinary excellence of Glitretind Restaurant daily for breakfast, lunch, après, or dinner, along with the well-known and loved Sunday Brunch featuring live jazz. Call (435) 645-6455 to make a reservation.
Wine Tastings
The private wine cellar tasting room at Stein Eriksen Lodge provides guests with a unique and intimate wine tasting ambience. Indulge in the fun of a blind tasting with wines chosen by the expert sommelier showcasing two distinctive whites and four extraordinary reds paired with a delightful assortment of charcuterie meats and cheese. You also have the option to select your own wines to taste from our exceptional list.
This is the perfect time to visit Stein Eriksen Lodge and take advantage of the fabulous dining options both onsite and within the rest of our Stein Collection restaurants.