Experience Your Dream Wedding at Stein Eriksen Lodge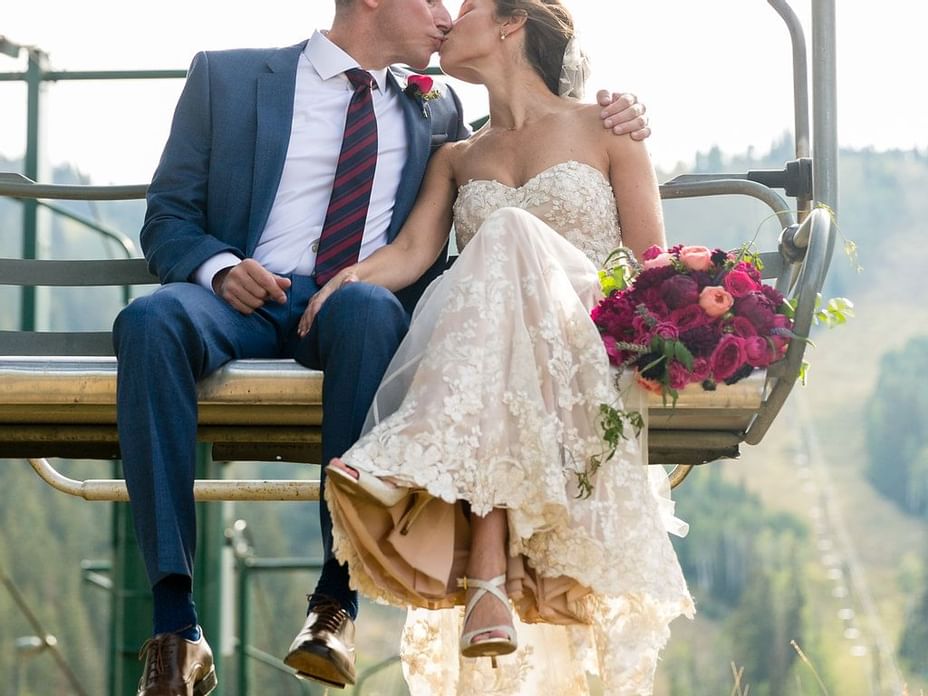 A wedding held at Stein Eriksen Lodge surrounded by stunning Deer Valley and Park City views is far more than an ordinary event. From fine catering to luxurious accommodations and a completely customized experience for you and your guests, it's a one-of-a-kind occasion that will linger in hearts and memories for years to come. Each tailored detail will be perfectly prepared to create exactly the day you have always dreamed of. Our dedicated event service team will ensure that every element will be exemplary with legendary and personalized service.
The Day Before
The day before your wedding at Stein Eriksen Lodge, you and your party will have a complete ceremony rehearsal to work out all the details. As many wedding parties do, you can also take advantage of the option to hold the rehearsal dinner in one of our beautiful banquet spaces for added convenience.
Between rehearsals, there will be plenty of time to indulge in your choice of Bridal Packages at our Forbes Five-Star spa. Our professional stylists will help you test out your look for the wedding with a hair and makeup trial. You will also have the option to choose between two incredible packages that feature a customized facial with either a consultation for hair and makeup the day before or a manicure and pedicure with makeup and hair the day of. Additionally, you can also spoil your bridal party with an afternoon of manicures and pedicures for all so everyone is feeling ready for the big day.
The Day Of
Your unforgettable day starts with your wedding party preparing for the main event in the comfort of the Bridal Suite. Many couples also choose to take their First Look photos at this time so they can proceed directly to the reception after the ceremony. Your chosen wedding planner will coordinate the detailed timing of your day to ensure everything flows smoothly.
Your chosen venue for the ceremony will be perfectly prepared to your specifications. Whether you opt for a more intimate setting on the Bald Mountain Lawn under the aspen trees or host a larger gathering on Flagstaff Mountain Deck with gorgeous views, all flowers, decorations, and seating will be arranged just as you imagined.
Following the ceremony, you and your beloved can steal a few moments in the privacy of your suite with hors d'oeuvres and champagne before heading down to the cocktail reception in the Ballroom Foyer and Terrace or on the Flagstaff Room Deck. Passed hors d'oeuvres, an open bar, and indoor/outdoor enjoyment of the beautiful setting set the tone for the evening ahead.
The event then moves on to your chosen reception venue, spectacularly decorated and presented in a stunning Grand Reveal for you and your guests. Guests will be welcomed, seated, and served the customized plated or buffet dinner that you have chosen for them. After the meal, the night continues with toasts, the first dance, the bouquet and garter toss, or any other activities you've decided to make a part of your dream event. The night ends with a formal farewell before retiring to your complimentary Bridal Suite as newlyweds in luxurious surroundings.
However you've envisioned your wedding day, we at Stein Eriksen Lodge will help you turn your dreams into reality. Get in touch with our wedding specialist today and start planning the event you've always wanted.