Fall Recipe from Glitretind Restaurant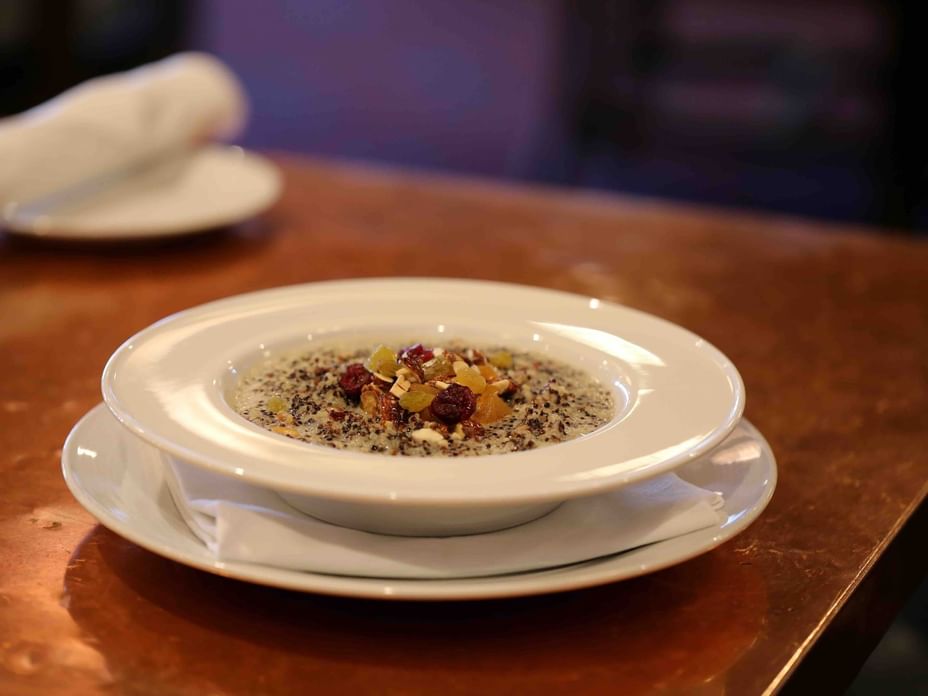 Shorter days and crisp mornings that lure you back to bed make us want to cozy up with some warm, homemade food for every meal. Luckily, we have an award-winning restaurant here at Stein Eriksen Lodge serving delicious cuisine to fill you up on chilly fall days. Whether you want a filling breakfast, warming lunch, or decadent dinner, Glitretind Restaurant has many delicious offerings to keep your belly warm and full during the changing of seasons.
We're enjoying a house-made Quinoa Porridge as part of our breakfast buffet each morning at Glitretind. And now you can make it at home too. Filling and full of flavor, the porridge is a delicious and comfortable way to start a cool autumn day. The quinoa and rice base keeps you satisfied throughout the morning while the almond milk and agave syrup add a touch of sweet. It's topped with berries and dried apricots that'll have you making this delicious fall recipe over and over all season long.
Quinoa Porridge
Ingredients:
2 Cups Quinoa, 1 cup White and 1 cup Brown Rice
4 Cups Water
1 Cup Almond Milk
½ Cup Diced Dried Apricots
2 Tbsp Agave Syrup
1 tsp Kosher Salt
Directions:
Place the quinoa in a thick bottom sauce pan and add the water and salt.
Cook this mixture for 20 minutes on low heat; the quinoa will open up and become soft. Do not let the pan get dry while it is cooking, and if necessary add water.
Add the almond milk to the quinoa and bring to a simmer.
Add the diced apricots and agave syrup and mix thoroughly.
Remove this from heat and let sit for 5 minutes.
Serve with fresh berries

This simple and delicious recipe takes less than half an hour to make at home, or you can come into the restaurant and join us for our breakfast buffet. While you're here for the food, go ahead and indulge in a night or two at the Lodge. When you book your stay with our Fall Dining package, you can choose from either a three-course dinner at Glitretind or our famous Sunday Brunch with your accommodation. Or, book with our Alpine Awakening package and receive daily breakfast in Troll Hallen for two during your stay. Call and make your booking or restaurant reservation and cozy up with some house-made food this fall season.