Behind the Lodge: Chef Jeremy Garcia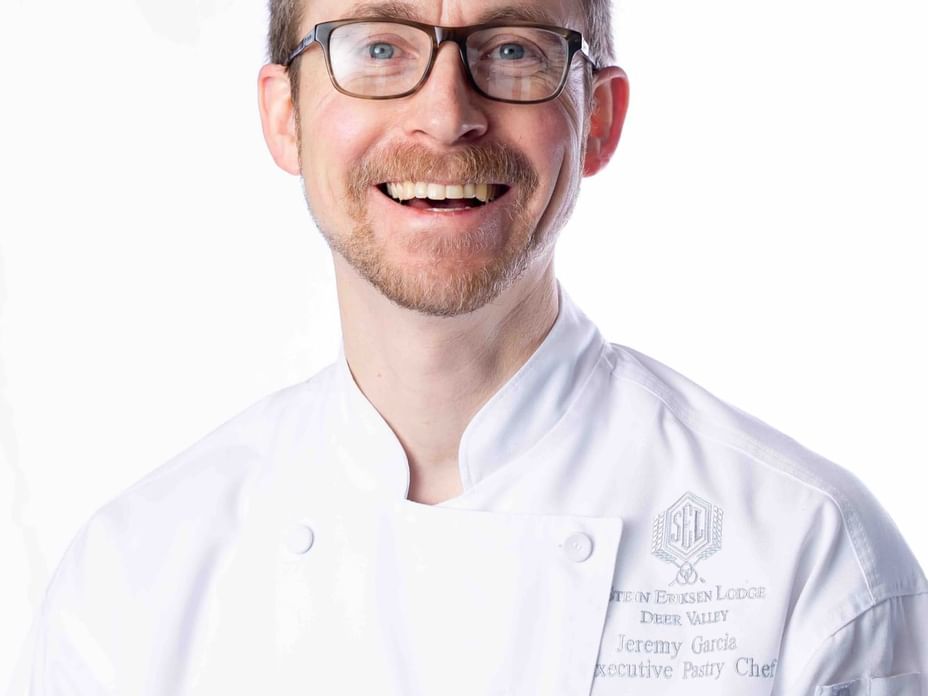 The many award-winning dining experiences at Stein Eriksen Lodge rely on a diverse, multi-talented team of chefs, with Jeremy Garcia leading our fabulous pastry team. Chef Zane Holmquist, VP of Food and Beverage Operations and Corporate Head Chef, and Chef Jonathon Miller, Executive Chef, provide Chef Garcia and his team as much flexibility as they would like, allowing them to always experiment and try out new recipes and flavors.
With a range of clientele staying at the Lodge, Chef Garcia has the opportunity to create a wide spectrum of pastries to provide to each variety of guest. You can find him creating special wedding and 50th anniversary cakes, fashioning chocolate or fruit desserts for upcoming seasonal menus in one of the restaurants, or trying new flavors on the Sunday brunch buffet – something he is particularly proud of.
Chef Garcia has always loved a wide range of pastries, though French classics are probably his true favorite. He appreciates the variety of dining outlets at the Lodge. The restaurants allow flexibility to play around with modern American continental items in the Glitretind to the more relaxed, family-focused atmosphere of the Troll Hallen lounge desserts.
Before coming to Stein Eriksen Lodge, Chef Garcia worked for the Broadmoor Hotel in Colorado Springs, CO for four years. His last position there was as the Sous Pastry Chef for Restaurants at the Hotel, which included over a dozen different food service outlets. Before the Broadmoor Hotel, he was the pastry chef for The Cliff House at Pikes Peak, a boutique hotel in Manitou Springs, just west of Colorado Springs, where he worked for about six years.
Chef Garcia and his wife had been looking to move for a number of years when they were drawn to Park City due to its similarity to the towns they grew up in back in Colorado. He was also attracted to the Lodge due to its prestige within the area, and the unique challenges and opportunities he knew such a property would provide. He loves solving new puzzles and challenging himself, so he was instantly drawn to such a dynamic and exciting property. The total size of the property is, he feels, just right. It's large enough to have a need for a diverse pastry shop, but not so large that he feels unable to make a significant impact.
"I am very proud of the staff I have on hand and the excellent work that they do. Without them, I would not be able to do anything! Their dedication to all of our guests and willingness to do whatever is necessary is truly what makes us successful."
When not cooking up something delicious at the Lodge, he spends as much of his free time with his wife and two sons as possible. They enjoy hiking in the summer, playing games in the winter, and they also love to cook together – though he admits that at home he rarely makes pastries. He is far more likely to make some southern chicken & dumpling soup with his kids than something sweet.
​Discover the many award-winning dining options during your stay at Stein Eriksen Lodge – and be sure to give Chef Garcia and his pastry team a nod of appreciation for their many fine desserts that round off each meal. It is the creativity and enthusiasm of exceptional team members like Chef Garcia who truly bring our restaurants to life.