Treat Yourself to the Alpine Life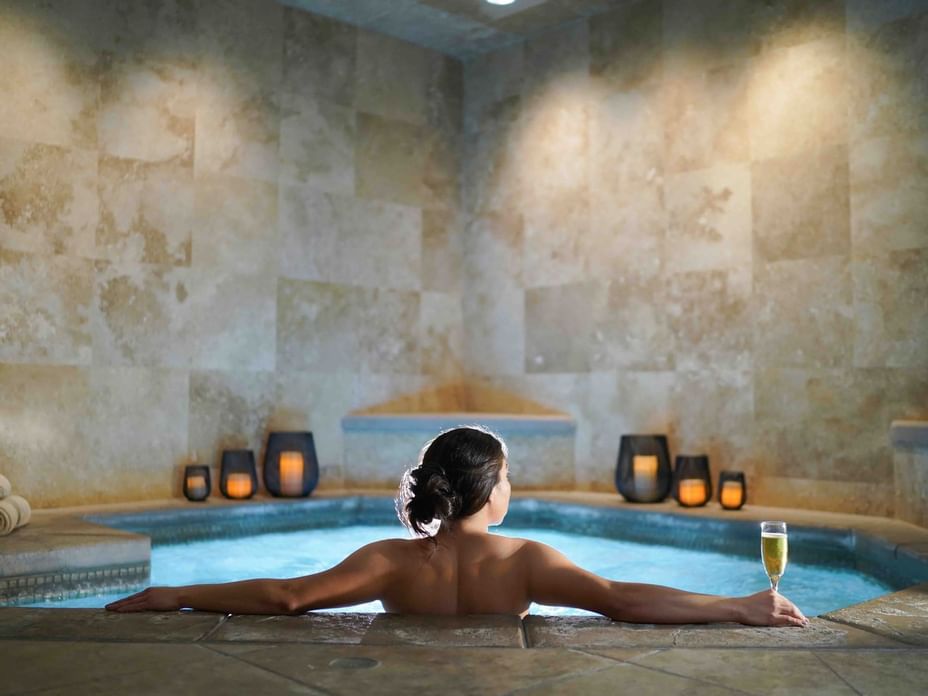 The snow begins to melt high atop the Wasatch mountains, Stein Eriksen Lodge continues to welcome guests to its luxurious mountain paradise. Whatever the reason for visiting, Stein Eriksen Lodge is sure to provide you with the best 5-Star service in town.
No matter the number in your party, there is always a special available for you, including Savor the Spring, Book 2 Get 3rd Free, Alpine Awakening, Spa Renewal, the Little Explorers Experience, and 2-for-1 Dining.
Savoring Spring with the Best Deck Dining
Satiate your palate with award-winning cuisine at Glitretind Restaurant as this special offer provides an intimate three-course dinner for two. Whether you enjoy your third meal as the sun begins to set or you prefer the blanket of night fall, this noteworthy experience is sure to provide you with exactly what you crave - serenity.
If dinner doesn't work, substitute in everyone's favorite - Sunday Brunch. Whether you're the type who has been awake for hours as brunch time rolls around or you're forcing yourself out of bed, come enjoy this divine smorgasbord.
Along with the splendid cuisine, enjoy breathtaking views of the Deer Valley mountains.
With this special package, guests also enjoy luxurious lodging accommodations, complimentary underground and secured valet parking, and wireless Internet. Valid now through 6/13/2019, guests can book online or by calling (800) 453-1302 with booking code SPRING.
A Free Night of Mountain Seclusion
Need time away? Stein Eriksen Lodge renders the perfect offer for you: book 2 nights at our legendary property and get the 3rd night free.
Leisure guests receive full access to the property's top of the line spa facilities - the only spa in Utah with a Forbes Five-Star rating. Enjoy plunges into hot and cold baths for full-body relief or melt away as you relax in a steam room. Guests also receive full access to the fitness center and Verdandi Wellness Studio classes - providing opportunities to keep that body in exquisite condition.
Book your room online or call (800) 453-1302 with booking code 3RDFREE. Come experience Utah's only Five-Star hotel with its award-winning menus from now through 12/5/2019.
Escape to Utah's Alps
Ever dreamed of going to Switzerland - walking through the tiny villages nestled high in the peaks of the Bernese Oberland region, or waking up to see the sunrise strike the village of Lauterbrunnen?
Though commonly perceived as fantasies, now can be replaced by treating yourself to a truly majestic setting at the world-famous Stein Eriksen Lodge. Give yourself the getaway you deserve and have longed for as you partake of Utah's finest lodging experience.
Begin your day by awakening yourself with an indulgent breakfast as you stare at the majestic slopes of Deer Valley Resort. Sip a Stein's signature blend coffee as you consume the Norwegian Potato & Bacon Pancake dish, the Avocado Toast and Egg Whites, or try the hearty Miner's Skillet. Whatever your taste buds desire, this lavish spread will have something for you.
Along with rewarding your palate, this package provides guests with luxurious lodging accommodations, complimentary valet parking, and access to wireless Internet.
Valid now through 12/5/2019; book your room online or call (800) 453-1302 with booking code ALPINE.
Get Pampered Head to Toe
Life can be stressful, and the daily grind can become monotonous. Treat yourself and that special someone by booking the Spa Renewal package at Utah's only Forbes Five-Star spa.
Relax your mind, restore your body, and renew your spirit with two 50-minute treatments of your choosing. Get those deep aches relieved or find yourself wrapped in an infrared blanket as a way to detoxify your body. Products used to pamper guests come from only the finest of locally-sourced and natural ingredients.
With unlimited access to The Spa facilities, one finds that time holds no value as relaxation becomes the pinnacle of the stay.
To top off this package sure to make one feel like royalty, we're including breakfast for two at the award-winning Troll Hallen.
Valid now through 12/5/2019, guests can book online or call (800) 453-1302 with booking code SPA.
A Night Under the Stars
Creating memories for children that last a lifetime begin here at Stein Eriksen Lodge.
With snow still blanketing the surrounding landscape and mountain range, the shoulder season in Park City deters families from enjoying a great American pastime, camping in the outdoors. If your family has got the itch, come to Stein Eriksen Lodge.
Our Little Explorer package add on offers its smaller guests the opportunity to camp right in the very accommodations where they are staying. Prior to your arrival, our exemplary staff sets up a canvas tent that comes with a plush stuffed animal, a National Geographic Starry Night Lantern, and a Fun with Nature: Take Along Guide book - providing a camping experience unlike any other.
To arrange such an experience, simply call our Concierge team at (435) 645-6460 and request it be added to your reservation.
Fine Dining with a Twist
The menus of Glitretind Restaurant and Troll Hallen reflect cuisine that is sophisticated and elegant. The touches and care put into each dish reflect the Stein Collection standards.
As shoulder seasons come and go, Glitretind Restaurant and Troll Hallen are offering dining deals that cannot be turned down. Come in now for a 2-for-1 experience and taste the seasonally designed menus at either restaurant.
With VP of Food & Beverage Operations and Corporate Chef, Zane Holmquist, and Executive Chef Jonathon Miller leading the process of producing such high-caliber food, guests are sure to leave each dining location completely satisfied.
​
After you've tasted the mouth-watering cuisine at said restaurants, plan to come back and experience the authentic homemade Italian cooking at Cena Ristorante at The Chateaux Deer Valley where the same 2-for-1 dining deal is also offered starting 5/4/2019.