Remembering the Legend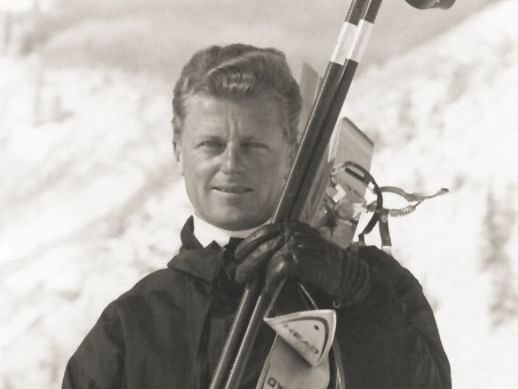 Nearly a half-century ago, Stein Eriksen stood atop Bald Mountain with Edgar Stern and had a vision to create the world's best ski resort and, along with it, the world's best ski hotel. That same inspiration he felt then eventually turned this idyllic spot into the Deer Valley we all know and cherish today. And the spirit that Stein established years ago has served for decades as the legacy behind Stein Eriksen Lodge. We've built a reputation on offering the finest luxury lodging accommodations in the world, and on embodying the dedication and passion that built this area.
​
This renowned man had a passion that was focused on serving our guests and creating a culture where lifelong memories were created with every stay. We still uphold this dedication and adoration that can be experienced in the very service we offer today.
In honor of Stein, we wish to reflect on the most impactful moments and historic events that built the iconic legacy of Stein Eriksen Lodge.
1927- On December 11th in Oslo, Norway, a legend is born. Marius and Brigit Eriksen welcome baby Stein into the world.
1949- At just 22 years old, Stein becomes Norway's Slalom Champion.
1950- Stein captures the bronze medal at the World Championships in Aspen, Colorado.
1952- Stein wins the gold medal in Giant Slalom and silver medal in Slalom at the 1952 Winter Olympics in Oslo, Norway, making him the first alpine ski racer from outside the Alps to win an Olympic gold medal.
1954- Stein secures three gold medals at FIS World Championships in Are, Sweden for Slalom, Giant Slalom, and Combined.
1970s- Shortly after his successful competitions, Stein moves to U.S. where he lived and worked in Idaho, Michigan, Vermont, California, and Colorado before making his decision to call Park City home.
1981- Deer Valley Resort opens for its first winter season where Stein served as Director of Skiing for an awe-inspiring 35 years.
1982- Stein joins elite few inducted into the National Ski Hall of Fame.
1982- Stein Eriksen Lodge opens for business on December 16, 1982. To celebrate this iconic event, a Stein bash is held and welcomes over 500 distinguished attendees.
1984- Stein Eriksen Lodge completes the second phase of expansions, which includes an additional 23 luxury units.
1997- Stein is honored by the King of Norway as he was knighted with the Royal Norwegian Order of Merit, the highest honor bestowed on any person living outside of Norway.
2001- Stein Eriksen Lodge finishes the third phase of expansions, continuing to make the best even better.
2002- A year later, Stein Eriksen Lodge completes its fourth phase of expansions that include The Spa — Utah's only Forbes Five-Star spa — complete with pool and patio.
2007- A bronze statue of Stein Eriksen is erected in the Arrival Circle in celebration of the 25th anniversary of the Lodge.
2007- Glitretind Restaurant earns the coveted Wine Spectator Best of Award of Excellence, which it has maintained every year since.
​2008- Stein Eriksen Lodge earns the prestigious Forbes Five-Star rating, making it Utah's first and only hotel to receive this highly-acclaimed award. The Lodge has maintained this rating ever since and is still Utah's only resort property to have a Forbes Five-Star status.
​2009- Stein Collection begins managing The Chateaux Deer Valley and The Residences at The Chateaux Deer Valley alongside its legacy property, Stein Eriksen Lodge.
2011- Cena Ristorante earns the distinguished Wine Spectator Award of Excellence, which it has maintained ever since.
2013- Stein Collection begins rental management of Park City's newest luxury property, Stein Eriksen Residences.
2013- In the fifth phase of expansions, the Stein Eriksen ballroom is constructed and becomes Park City's most luxurious ballroom, providing 6,000 square feet of indoor/outdoor event space.
2015- Stein Eriksen, the legend, passes away at the age of 88. He is honored every year with an annual celebration and a toast on Stein Day, December 11th, which was his birthday.
2015- The Chateaux Deer Valley is awarded the Forbes Four-Star status and has received this illustrious award every year since.​
2018- The Lodge completes a $14 million expansion which includes the additions of the new First Tracks Kaffe coffee shop, the 56-seat Freestyle Movie Theater, expanded ski locker rooms, new 3,500 square foot Champions Club entertainment center and game room, a new family-friendly pool with waterfall feature and hot tub, and new Champions Plaza gathering space with two fire pits for guests.
2019- Stein Collection begins managing the newly-established Stein Eriksen Realty Group — Park City's elite team of Agents offering luxury real estate services.​
​
As Stein Collection continues to grow, providing more luxury services and amenities than any other property in Deer Valley or Park City, Stein Eriksen Lodge remains as the luxury property that started it all. The workplace to hundreds and a luxury retreat to thousands of guests who return year after year, the Lodge stands proudly in the heart of Deer Valley as a legacy property and the pinnacle of mountain lodging. We have the insight and dedication of one passionate man who pioneered what we all enjoy and cherish to this day.