The Marius Sweater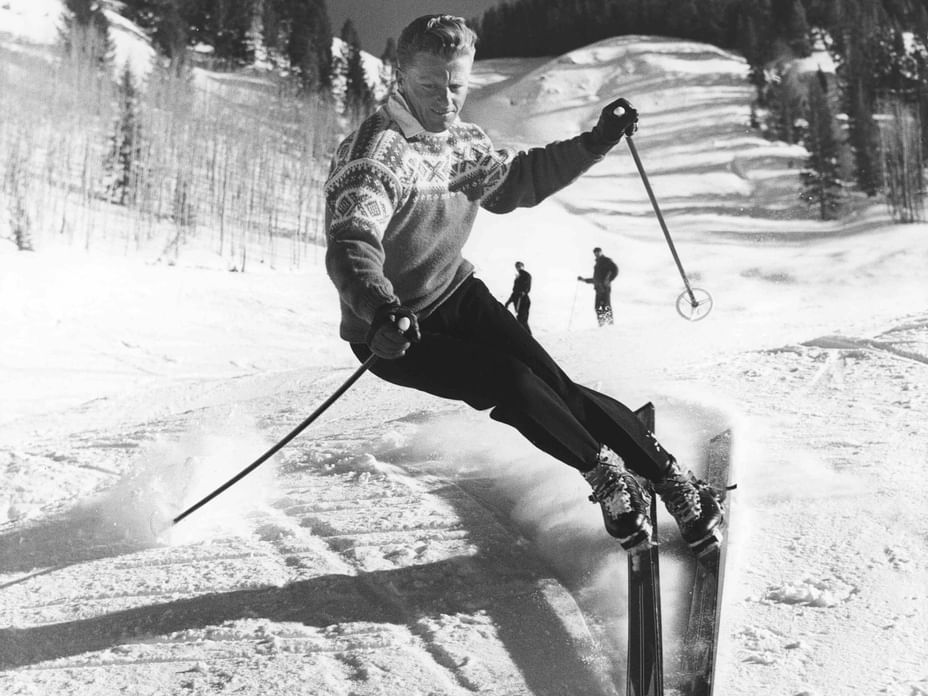 With its rich heritage of folk art, it's no surprise that out of Norway emerged a distinctively patterned woolen sweater. This sweater is now recognized around the globe as being iconically Norwegian, and tourists visiting the country often purchase one as a souvenir. The pattern of this sweater was designed by knitter Unn Søiland in 1953 and was eventually named after, and made famous by Stein's older brother, Marius Eriksen Jr.
Stein wasn't the only skier in his family. His father, Marius Eriksen Sr. was an avid cross-country skier who opened a shop in Oslo selling ski gear. His brother, Marius Jr., was a Norwegian champion in alpine skiing in both 1947 and 1948. In addition to his skiing success, Marius was also pilot during World War II in the Norwegian Army Air Service and after the war, an actor starring in several films.
Marius's role in the hit Norwegian film Troll i ord in 1954 is what made the Marius sweater design boom in popularity. He is seen in many scenes wearing the sweater. After the film's success, everyone wanted to knit their own Marius sweater. The pattern became legendary. Marius was already a decorated war hero for his exploits as a fighter pilot, and his acting career further cemented his popularity across the country.
Stein and Marius's mother, Birgit "Bitten" Eriksen loved to knit and made and sold the now-iconic sweater in their father's ski shop in Oslo. The original pattern featured crosses and diamonds predominating across the shoulders in navy, white, and red, the colors of the Norwegian flag. As the pattern's popularity grew, the use of colors became more varied and creative.
Stein himself was often photographed skiing in the Marius sweater. Between the two brothers, the sweater and its pattern became an iconic piece of winter wear that remains popular even today. Now, the Marius pattern can be found not only on sweaters, but on mittens, hats, t-shirts, and more.
The Marius sweater is just one example of Norwegian heritage that permeates Stein Eriksen Lodge. Throughout the Lodge, thick wood paneling, painted murals, and patterned accents offer a Norwegian escape rooted in cultural heritage encouraging guests to escape from the hustle and bustle of everyday life. Book your stay now and enjoy a mountain escape steeped in old-world charm this winter season. ​