Holiday Activities at the Lodge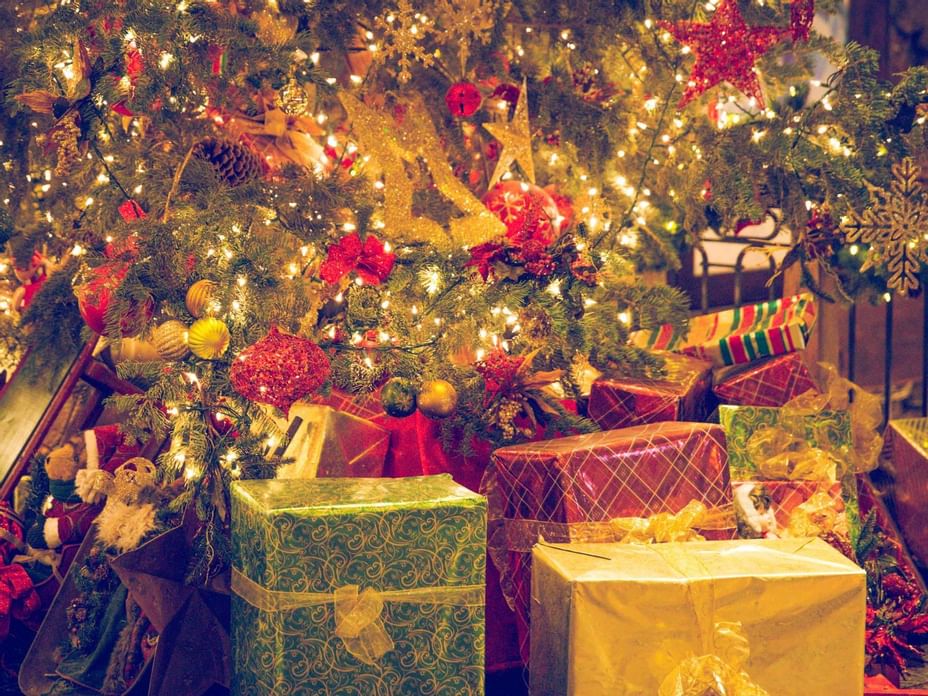 Here at Stein Eriksen Lodge we are fully embracing the festive season with traditional decorations, seasonal aromas, and twinkling lights. The thirty-two-foot Christmas tree takes center stage in our luxurious Mountain Lodge. Hand decorated by our staff, the annual tree trimming marks the onset of the holidays at Stein. A freshly-cut tree is brought inside, hoisted up using ropes and manpower, and then carefully trimmed and decorated with ornaments, toys, and shimmering lights. This elaborate tree reaches from the floor to the apex of the vaulted ceiling in the Lodge and is finished with oversized gifts at its base. This tree combines with the warm crackling of the wood-burning fireplace and the sweet indulgence of a larger-than-life gingerbread rocket ship to create the perfect picture of holiday cheer.
For our in-house guests, mark your calendar with this exciting lineup of holiday activities to celebrate the season and bring in the New Year!
​
Tuesday, December 17, and Monday, December 23, 5pm-7pm – Gingerbread House Making
Let our expert pastry chef help you create a gingerbread house of your own to keep and share.
Friday, December 20, 5pm-7pm – Ornament Decorating
Create and decorate a special ornament of your own to treasure using provided ceramic ornaments and cheerful paints.
Saturday, December 21, 5pm-7pm – Cookie Decorating
Frost and decorate your own selection of delicious holiday cookies.
Sunday, December 22, 3pm-5pm – Pictures with Santa
Get your annual pictures taken with Santa right here at the Lodge.
Thursday, December 26, TBD – Make Your Own Bear
Discover the fun of stuffed animal making when you create your very own Stein Eriksen Lodge Bear.
Saturday, December 28, All Day – Champions Club Contests
All day long, Champions Club will be holding exciting contests for our guests.
Sunday, December 29, TBD – Kids Arts and Crafts
Kids staying at the Lodge get their own chance to take part in seasonal arts and crafts.
Sleigh Rides – Deer Valley Resort
Allow our Concierge team to book a sleigh ride for you through the snow covered mountainscape of Deer Valley Resort to complete your holiday experience.
Please be aware that some of these activities do incur an additional cost to participate. For more information or to RSVP for any activity, please call our Concierge desk at (435) 645-6460.
Happy Holidays from all of us at Stein Eriksen Lodge!