An Out-Of-This-World Gingerbread Display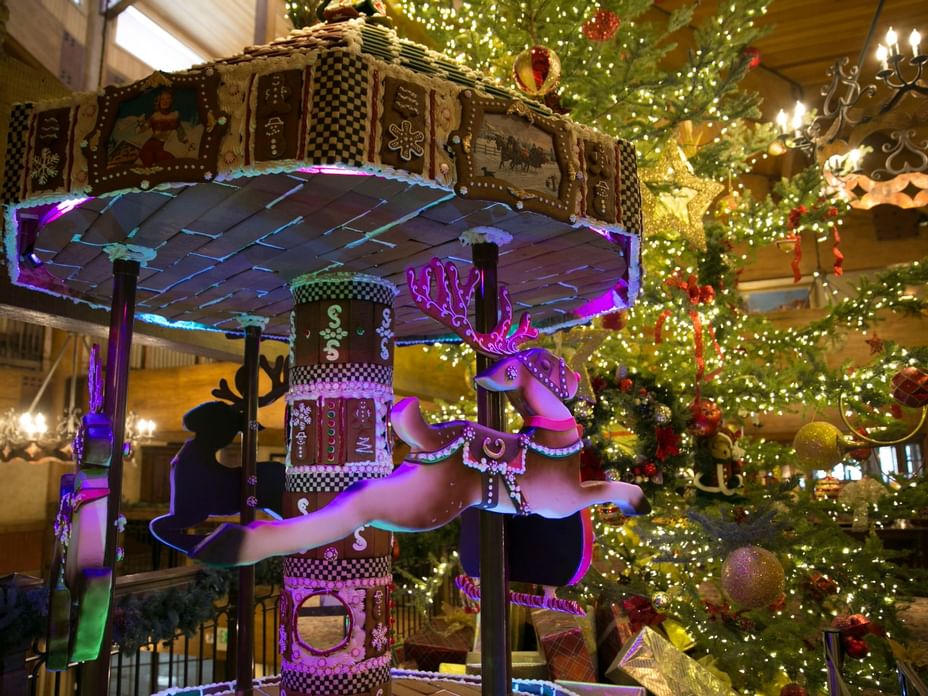 Now that the Thanksgiving holiday has passed, Stein Eriksen Lodge is undergoing a festive transformation. Outside, fresh snow blankets the ground and rooftops while lights twinkle on the aspens and pines. Inside, our staff is hard at work decorating the halls. Wreaths, garlands, a 32-foot tall decorated tree, and a massive gingerbread display welcomes guests as they walk into the Mountain Lodge. While all of these elaborate decorations provide the Lodge with a festive spirit, we dove a little deeper into the 18-year tradition of the making of the enormous gingerbread display.
Theme
The theme for the gingerbread display this year was inspired by a trip our Executive Pastry Chef Jeremy Garica took to Disneyland with his family. He pulled inspiration from both the Astro Orbiter in Tomorrowland and an Atlas V Lego set he purchased for his son a while back. The theme? Retro Rocket Ship.
"Our elaborate gingerbread display has become a staple of Stein Eriksen Lodge holiday traditions for our guests, and we are thrilled to unveil our spacecraft constructed entirely of sweets," said Garcia. "We are incredibly proud of this year's groundbreaking display, equipped to 'boldly go where no (gingerbread) man – or woman – has gone before.'"
Ingredients
It takes a lot of ingredients to construct such a monstrous display. 150 pounds of flour, 8 gallons of molasses, hundreds of eggs, 50 pounds of sugar, and 40 pounds of butter to be exact. Ginger, cinnamon, nutmeg, and cloves are added to provide the classic gingerbread smell, look, and taste. Then, Chef Garcia and his team use Royal Icing to stick everything together. According to Chef, this icing not only smells better than glue but works better too.
Construction
The construction of this year's gingerbread display provides a new and interesting challenge to the pastry and engineering teams. The spacecraft will have a vertical construction requiring the team to build it in pieces for ease of assembly. The weight of the ship also provides an interesting challenge for set-up. After the ship is in place, Chef Garcia encourages guests to find fun and silly things on the rocket ship he has hidden.
A combination of the elaborate gingerbread display, the extravagant 32-foot decorated tree, and other decorations transform the Lodge. Here, guests are transported to a festive utopia. Join us this holiday season and see this impressive gingerbread display yourself. Book with our Holiday Activities package and spend the holiday season surrounded by out-of-this-world decorations.
Gingerbread image shown is from December 2017 and depicts a fun "spin" on a traditional carousel theme.