Festivities This Holiday Season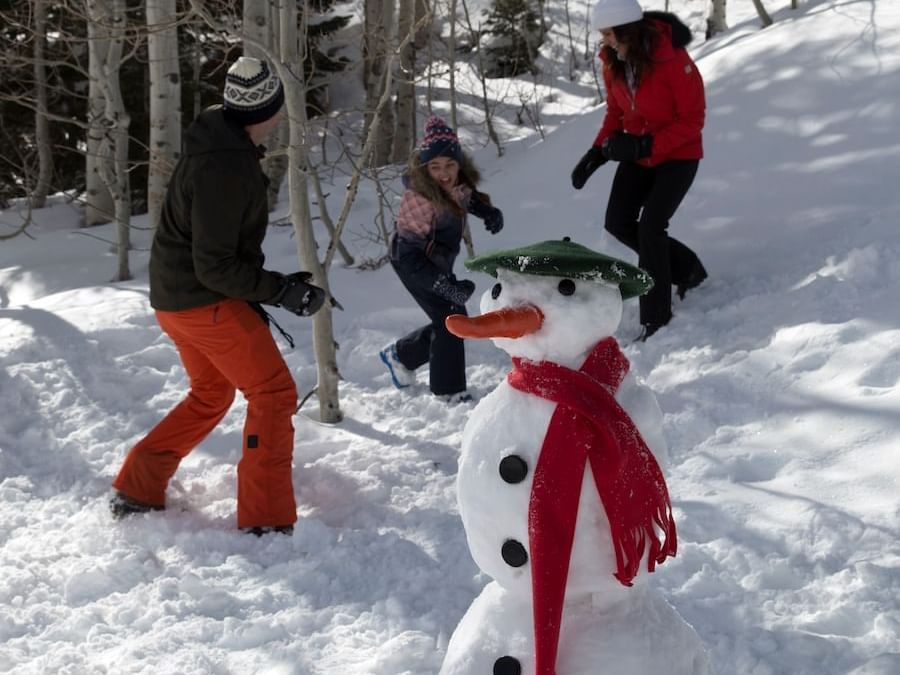 Every detail is reminiscent of seasonal splendor - from glimmering lights to nostalgic aromas, our Norwegian lodge offers unparalleled alpine luxury. The alluring fragrance of fresh pine from the 32-foot tall Christmas tree and the sweet scents of the annual gingerbread display coupled with the crackling of the wood-burning fireplaces throughout the property really beguile the senses with pure holiday bliss.
For our in-house guests, plan to add these fun holiday activities into your itinerary:
Gingerbread House Kits
Pickup your kit at the concierge desk to take back to your guest room and put together for a great family activity. Be sure to ask the Concierge team for a fun board game to take to your room as well. Sip on hot cocoa, enjoy the warmth of your fireplace, turn on a holiday classic, and put together your gingerbread house. This is the time to unplug and make memories that will last a lifetime. (This activity does incur an additional cost for the gingerbread house kit.)
Snowman Making Kits
Our Concierge team will provide you with all the snowman making mold and all the accessories you need to build a snowman at the Lodge. We suggest either the Courtyard area or the ski-in area just off the Mountain Lodge back deck. Both are ideal locations for some snowy fun.
S'mores at the Fire Pits
Stop by the Concierge desk to pickup a s'mores kit, then head down to the fire pits at Champions Plaza for some mallow roasting fun while watching skiers meander down Bald Mountain. The Champions Club entertainment center and game room is adjacent to the plaza and offers a great spot for games and to grab après drinks or dinner.
Nightly Movies in the Freestyle Theater
Catch a cinema favorite in our onsite movie theater. Nightly showings at 7pm and 9pm. Check with the Concierge desk or front desk for a weekly movie calendar. All seating is on a first come basis. Earlier show times are rated for all our guests and are kid-friendly. Later showings are rated for our older guests.
Soak, Then Dine
After a day on the pristine Deer Valley slopes, soak in the hot tub and heated outdoor pool before you go to dinner. And may we suggest you make a dining reservation at Glitretind Restaurant or in one of our four new Alpenglobes on the Troll Hallen deck? Our restaurant is open to all guests and our award-winning culinary team is excited to share the new seasonally-inspired winter menu. Pair your cuisine with a craft cocktail, a locally-brewed ale, or select from our diverse wine menu. Our sommeliers are very knowledgeable and love to make pairing recommendations. And, for our lodging guests, a family-style breakfast is included with each night of your stay!
Nightlife
If you are looking for a little nightlife action, take the complimentary shuttle down to Historic Main Street in Old Town Park City. During the holidays, the city strings lights across Main Street for some added and vibrant cheer. Stores are busy and there are ample dining and nightlife options all along Main Street. Ask our Concierge for recommendations or to help with making reservations. (435) 645-6460
For additional information on any of the activities for our lodging guests, please call our Concierge desk at (435) 645-6460.
Historic Main Street
Park City is a true "Hallmark" mountain town and lends itself perfectly to what one expects in a wintry holiday wonderland. The magic of the season is enhanced with the merriment of guests and locals bustling along Historic Main Street looking for those one-of-a-kind gifts for their loved ones. Every detail is reminiscent of seasonal splendor, from glimmering lights to nostalgic aromas - nothing compares to the holiday joy found in Park City this time of the year. We look forward to welcoming you to our cozy lodge this holiday season and we wish you a very merry season!