Dine in an Alpenglobe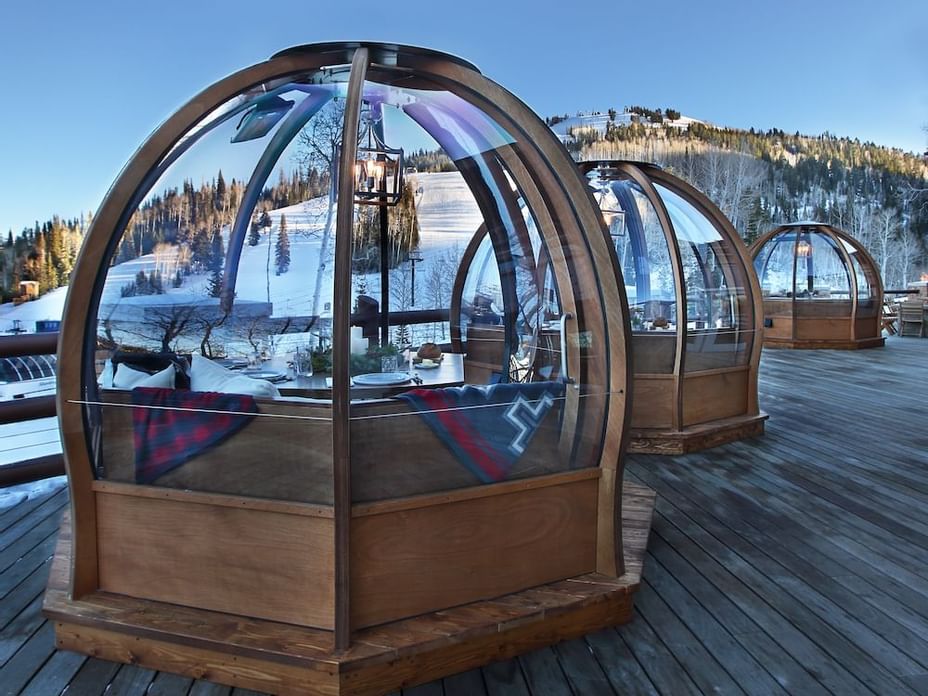 We first installed the globes not only because they are aesthetically gorgeous and fit in perfectly with the coziness associated with Stein Eriksen Lodge but also as a safety measure against COVID-19. The globes offer an isolated experienced for individuals in your group, away from the main dining area. Many guests feel much more comfortable dining this way, and we are happy to oblige.
Our initial three Alpenglobes were so popular and in such high demand that we decided to add three more. These globes offer a fully enclosed atmosphere with captivating, panoramic Deer Valley views, an ideal alternative to dining outdoors, no matter the season. The climate-controlled Alpenglobes are nice and cool in the warmer months or toasty and cozy all winter long.
The globes are perfect for special occasions and get-togethers. With seating available for up to six people, you can enjoy a night out with friends, a birthday celebration with family, or a romantic evening for two. The Alpenglobes are available during the same hours as the restaurant, and the menus are identical to the menus on offer at Troll Hallen Lounge. You can reserve your globe for 90-minute meal periods. The globes are also available to any group that calls and places a reservation. At this time, you do not need a room or reservation at The Lodge to dine in an Alpenglobe. The globes offer an excellent way to begin your day on the mountain during your luxury ski vacation for the breakfast lovers out there.
The globes are available via reservation only. Please call (435) 645-6455 to make your reservation. Upon arrival to the restaurant, please check-in at the host stand, and one of our experienced hosts will promptly seat you in your reserved Alpenglobe. The snow on the decks is cleared throughout the day, so no special footwear is required. However, we recommend that you bring a coat during the winter months. Although the globes are heated, it may get a little cool when your orders are brought out, and the Alpenglobe doors are open.
You can expect the same excellent service you have come to know and love when visiting a Stein Collection property. You will have the ability to contact your designated waiter at any time. Your waiter may also come by to check on your party, unless otherwise requested, to ensure you are enjoying your meal, just as they would with any other dining experience.
If you have not yet had the pleasure of dining in one of these unique amenities, please call today! The combination of delicious food, spectacular views, and exceptional service cannot be passed up.
We invite you to check out all of the delicious dining available at Stein Collection during your next stay at any of our excellent properties!