Stein Collection Magazine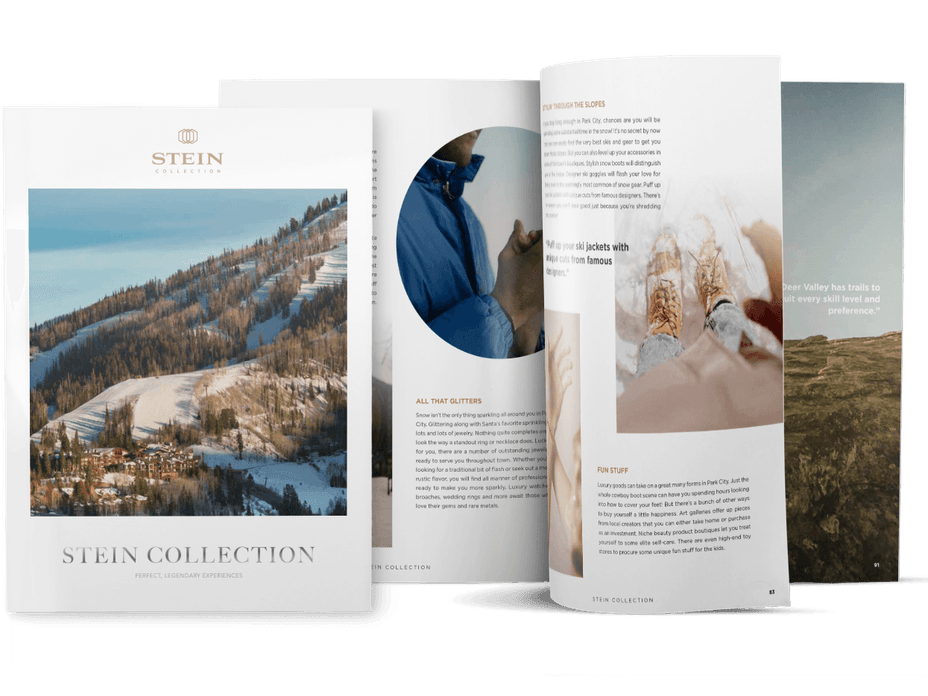 In addition to detailed information on each property, the magazine offers unique stories on Sundance Film Festival, The 2002 Winter Olympic Games, mountain biking Deer Valley, and Park City's luxury shopping experience.
The original intent for this extensive piece was to provide information for guests as to the services and amenities available at each property and encourage them to explore outside of where they may be staying, whether that be for a meal, a spa appointment, or for booking future stays to Deer Valley. We are constantly flattered by the kind words guests share for each respective property, the differences they find, the similarities they love, and the reasons why they continue to return. Each property provides a unique experience for any occasion.
To begin, the magazine provides a timeline as to the history of the Stein Collection, from humble beginnings when Stein Eriksen Lodge was under construction in the early 1980s with Olympic Champion skier Stein Eriksen himself as the ambassador to the present day, 40 years on. The collection has certainly grown with the times, added new experiences, and received plenty of recognition, all while remaining true to the original values and goals of providing world-class service with a smile.
Although the original intention was to keep this magazine in-house for guests to enjoy, the finished product is too good not to share with as many people as possible! Instead, the magazine may serve as a guide for those looking to book a stay for the first time, plan an itinerary, or learn more about what makes Stein Collection special.
The magazine also includes several articles that glean insight into what we love about Park City, Deer Valley, and some of the rich history therein. For example, it is relatively common knowledge that skiing is a large part of the Deer Valley experience, but did you know that Deer Valley Resort is one of the premier mountain biking destinations in the country? The magazine covers this and several other topics that you will indeed find interesting.
Whether you are local, global, a frequent guest, or someone who has never visited before, we sincerely hope you enjoy this piece and find it a valuable tool in learning more about the uniqueness of the Stein Collection.
A digital copy of the magazine can be found here.