Birkebeiner by Knud Bergslien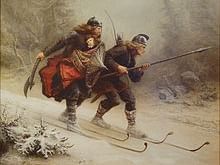 You will find the perfect example of such attention to detail at our newly redesigned concierge desk, where a particularly remarkable painting still hangs next to the desk.
Known as a painter and an artist, Knud Bergslien was also a great teacher. Bergslien is best known for depicting Norwegian culture and history through his art, including portraits, landscape paintings, and early depictions of how the people used skiing for both sport and travel. The painting adjacent to our concierge desk is a prime example of why his work is so beloved.
Perhaps Bergslien's most well-known work depicts Birkebeiner skiers carrying Prince Haakon to safety during the winter of 1206. The Prince grew up to be King Haakon IV. Bergslien is highly regarded in Norwegian culture. His reign marks the end of the period known as the civil war era in Norway. The Birkebien party or "Birkebeiners" was a rebellious clan established after a rival group unlawfully claimed power. The name was birthed from opposition propaganda, which suggested that the group was so impoverished that the member's shoes were crafted from birch bark. They embraced this name for themselves after coming into power. As the painting depicts, the Birkebeiners rescued the two-year-old Prince, carrying him through treacherous mountains and forests, to safer land. Today, this journey is commemorated through one of the world's longest cross-country winter ski races held in Norway, the United States, and Canada, as well as a summer mountain bike race in Norway.
From the perspective of most guests, it may seem easy to understand why this painting fits in perfectly with the design and aesthetic that Stein Eriksen Lodge offers. Still, the story is a tribute to the legend, Stein Eriksen. Stein was born and raised in Oslo, Norway, and represented his home country as an alpine ski racer in both the Olympics and World Championships. Eriksen was the first male skier from outside the Alps to win a gold medal.
The placement of this painting near the concierge desk is very intentional. The concierge team at Stein Eriksen Lodge takes pride in serving each guest, ensuring they find whatever it is they are seeking when spending their precious time with us.
Stein's Norwegian heritage and upbringing were an essential factor in helping him to become a world-renowned athlete and a pillar of excellence in the ski industry. This painting, and all it represents, serves as a reminder to us all to honor where we come from, look for opportunities to help others, and always take on challenges with courage and vigor. The next time you are on the property, we encourage you to stop and admire the fine details in the painting.