Luxury Home Winter Vacations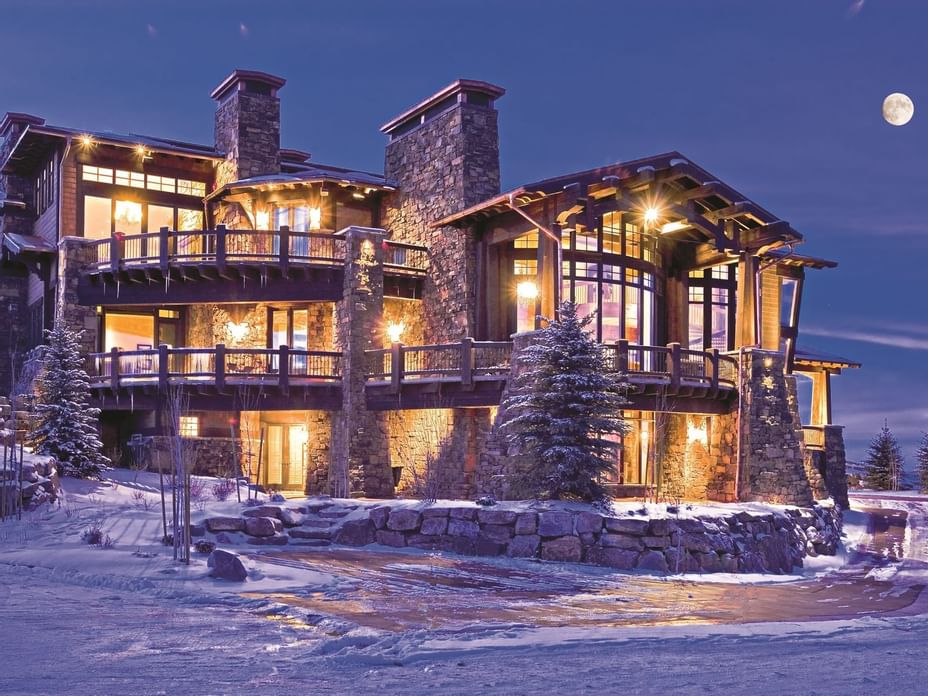 The collection includes four stand-alone homes with unique features, furnishings, and style, all situated throughout Deer Valley, as well as multiple freestanding homes at Stein Eriksen Residences, which include exclusive access to the property amenities, the indoor/outdoor infinity pool, Silver Aspen Spa facility, state-of-the-art fitness center, and the ski valet services and ski locker room facility.
These homes offer the same luxury experience that has become synonymous with Stein Collection. You will have access to everything you need including 24-hour concierge, private chefs, massage treatments, ski rentals, ski lessons, Stein Collection dining, meal deliveries, transportation, itinerary planning, and so much more!
The Dream Home
The most common word used when touring The Dream Home is "wow". Apart from the expansive size of the property, the stunning architectural details and inspiring panoramic views are truly something to behold. The impressive 14,000-square-foot residence certainly lives up to its name. The Dream Home is the perfect luxury getaway for large groups and those looking for a positively memorable mountain vacation.
The home features six bedrooms, ten bathrooms, a heated outdoor pool with a waterfall feature, an elevator, a golf simulator, a movie theater, a steam room, a sauna, and 4,500 square feet of outdoor deck space, as well as new Savant A/V and Lutron lighting control. Ski-in/ski-out access to Deer Valley Resort provides you with the only reason you would ever wish to leave this beautiful home.
Black Spruce Home
The Black Spruce Home is new to the lineup at Stein Collection, and we could not be more thrilled. This alpine oasis overlooks both lake and mountain views. 10,000+ square feet gives you everything you need for your dream getaway in the Wasatch Back. Located in the gated Deer Crest community means easy access to shopping and dining in Park City and ski-in/ski-out access ensures you'll be the first one on the lifts.
The home features seven bedrooms, ten bathrooms, a fully-equipped fitness room, a sauna and steam room, a home theater, a game room, and a convenient ski locker room. The home is a gated community offering security and privacy and is a short 20-minute drive from the Heber Airport.
The Red Cloud Home
This gorgeous residence spans over 9,500 square feet and provides a supremely high-tech environment without sacrificing the authentic Park City ambiance. With construction completed in 2020, this private, modern mountain home sits amid the alpine backdrop with premier ski-in access.
The home features eight bedrooms, ten bathrooms, 3,000-square-feet of outdoor deck space, an expansive ski locker room with boot warmers, glove dryers, heated floors, and a gas fireplace, a 12-person private home theater, a kid-friendly sleeping area with 6-bed bunks, and a private bathroom, as well as Smart home by Lifestyle Electronics.
The Bellemont Home
The Bellemont Home is a classic ski chalet located in the Belle Après community, this authentic log cabin also offers premier ski-in/ski-out access to Deer Valley as well as an ideal place for a dreamy winter mountain getaway.
Luxury Home Rentals at Stein Eriksen Residences
The five and six-bedroom homes at Stein Eriksen Residences all offer ski-in access, privacy, plenty of space, breathtaking modern design, spectacular views, and all of the great amenities provided by Stein Residences such as pool and spa access.
These luxury homes are truly the stuff dreams are made of, whether you are looking for the perfect ski vacation, or the perfect, cozy winter getaway, these homes can do it all. For more information or to book your luxury home this winter season, please reach out to (844) 719-8133 or online.