Happy Holidays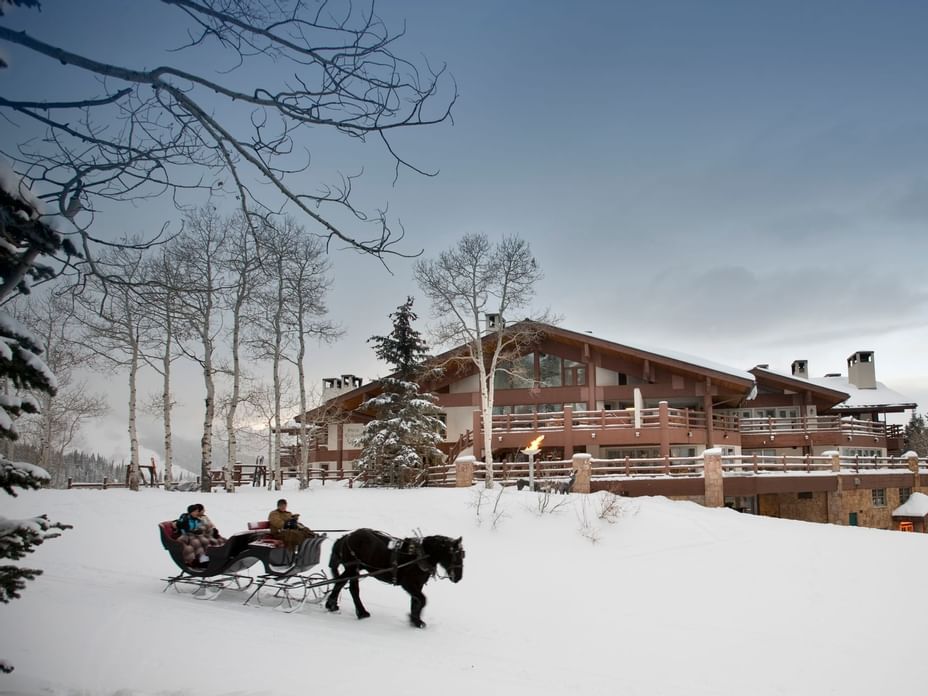 Join us this year, or start planning ahead for next year's holly jolly Christmas Vacation. Here are just a few ways we plan on spending the festive period.
Horse-Drawn Sleigh Rides
A horse-drawn sleigh ride is about as magical a winter activity as they come. The rides are family-friendly, and kids love to meet the horses, just like in a fairy tale. Be sure to enjoy a s'more by the fire with the whole family after your sleigh ride! If you are not traveling with kids, private sleigh rides through the snow and the winter lights following dinner at Glitretind also make for an especially romantic evening with your partner.
Spend a Day Skiing Deer Valley
Winter is in full swing at Deer Valley Resort. The snow keeps coming and it is prime time to enjoy a day on the mountain. Be sure to book your tickets early, and contact Deer Valley if you are interested in a Ski School class, and please call the concierge if you are seeking rental equipment while staying with us.
Nightly Movies in the Freestyle Theater
Catch a cinema favorite in the onsite movie theater at Stein Eriksen Lodge. Nightly showings start at 7 pm, followed by a 9 pm showing. Check with the concierge or front desk for a weekly movie calendar. All seating is on a first-come basis. Earlier showtimes are kid-friendly and rated for all guests while the later showings are mostly for older guests.
Historic Main Street
Looking for a last-minute gift idea, somewhere to dine, or even just somewhere to walk around and feel the holiday spirit? Look no further than Historic Main Street. Main Street's charm is especially prominent this time of year thanks in large part to the freshly fallen snow and the snow globe displays that dot Main Street.
Relax
Don't forget to relax this holiday season. Enjoy several world-class treatments from the incredibly knowledgable and talented spa staff, soak in the heated pool or hot tub, and curl up next to the fire with a good book or classic movie. Don't forget to order room service for a stunning in-room dining experience.
Whether you are visiting from afar, enjoying a well-deserved staycation, or simply spending a delicious meal with us, we hope the holidays find you happy and safe, and thank you for making Stein Collection such a special place to be.